The Coding Education of Kevin Systrom: Creator of Instagram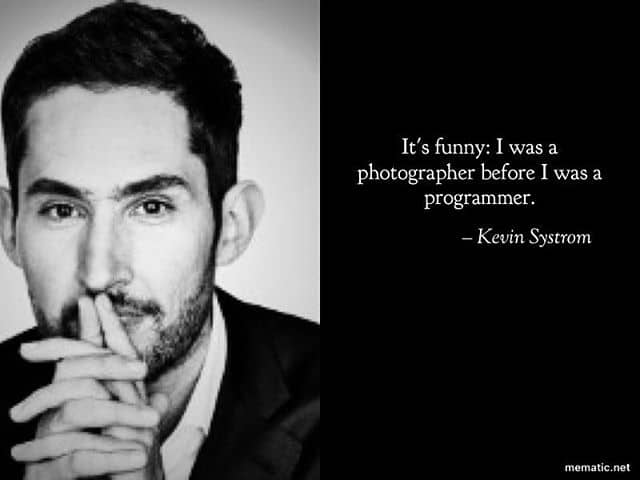 Self-taught programmer Kevin Systrom founded Instagram with Mike Krieger in 2010. While working a job as a marketer, Systrom taught himself to program and built the first prototype himself. Just two years after its launch, they sold Instagram to Facebook for one billion dollars. Systrom continues to manage the company today, and over the course of his leadership, he has kept the app elegantly simple, which has helped secured Instagram's popularity. In this article, we will explore the coding education of Kevin Systrom.
Systrom started learning to program in middle school, building his own Doom 2 levels and creating prank programs to convince his friends he had hacked into their AIM accounts. He got himself excused from all foreign language requirements at his private high school so he could take more computer science classes, but he wasn't a particularly stellar student in them. Despite getting an early start to his coding education, he obtained most of his programming knowledge during adulthood.
Systrom graduated with a bachelor's from Stanford in 2006. He initially majored in Computer Science, but he switched majors to Management Science and Engineering after realizing the focus of the computer science program was more academic than practical. He didn't give up programming though. During his free time, he still built web apps, including a private photo site for him and his fraternity brothers to share party pictures.
After graduation, he landed an internship at Odeo, the company that would eventually birth Twitter. While there, he struck up a friendship with Twitter Co-Founder Jack Dorsey, another famous self-taught programmer. He went on to work at Google as a marketer for two years, working on projects like Gmail, Google Calendar, Docs, Spreadsheets, and other Google products.
Despite his success at Google, he left his job to do marketing at Nextstop, a travel recommendations service. During the day Systrom helped Nextstop with marketing, but at night he resumed his coding education and began spending his time learning to program. While Systrom is a proponent of formal education, he has repeatedly stated that there are some things that you just can't learn in a classroom. Systrom described his time at Nextstop in an interview with Business Insider saying,
"While I was [at Nextstop] working in marketing, I started doing more and more engineering at night on simple ideas that helped me learn how to program (I don't have any formal CS degree or training). "
Eventually, he left Nextstop to pursue entrepreneurship. Inspired by his favorite drink, he created Burbn, a check-in app like Foursquare. He built the prototype for Burbn himself. Reflecting on the experience, he said,
"I figured I could build a prototype of the idea in HTML5 and get it to some friends. Those friends ended up using the prototype without any branding elements or design at all. I spent weekends working on improving the prototype for my friends."
After some experimentation, he stripped the overly complicated Burbn app down to photo-sharing and filters: the features that would eventually come to define Instagram. After spending a year on Burbn, Systrom and Krieger coded Instagram in just eight weeks. Systrom said later of this period,
"We had worked on Burbn for so long; this time we just wanted to get it out and get it into users' hands."
Despite being an iPhone-only app when they launched it, within two hours, Instagram's servers crashed from all the traffic. Its popularity has grown ever since, and it is now one of the most popular social media networks in the world.
Currently, Systrom is using his coding education to create algorithms using Facebook's DeepText technology to stop hateful comments. The algorithms use artificial intelligence to scan Instagram users' text to censor inflammatory, offensive, and inappropriate content. While this has raised concerns about media censorship, Systrom continues to have confidence in his ability to use his programming knowledge to solve problems.
What can we learn about programming from Kevin Systrom?
1. Learn to program. At the very least, you should be able to build a prototype. Everyone has ideas for products. Most people think they have an idea for the next billion dollar app, but hardly anyone is willing to take the time to learn to program well enough to build a prototype. Even if you eventually have to pay people to take over development, being able to create your own prototype puts you way ahead of all the "idea people."
2. Don't weigh yourself down with projects you don't care about. From his Doom 2 levels to the hit Instagram, Systrom has always thrown his entire effort into projects that he's really interested in. People close to him have commented on his incredible passion. He doesn't waste time on endeavors that don't inspire him, as he demonstrated when he left the search engine giant Google (which would have been a dream job to many) to take up programming and entrepreneurship instead.
What lessons does Kevin Systrom's career have for you? Let us know in the comments below!
Want to learn to program? Register for my free Self-Taught Coder Masterclass where I cover how I went from a novice to a software engineer at eBay in less than one year.