Sabrina Pasterski: The Girl Behind the Next Einstein Meme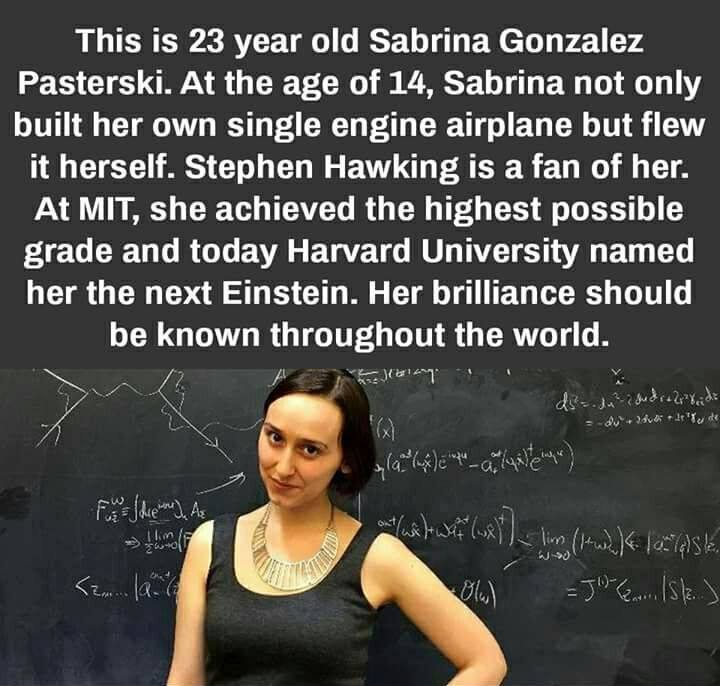 There is a meme going around on Facebook about a girl named Sabrina Pasterski who built a plane at 13 years old, and the press is hailing as the next Einstein. I kept finding myself thinking about the meme, wondering if it was all true, so I decided to do some research to find out more about the girl behind the meme.
According to the Chicago Tribune, when Sabrina was twelve years old she spent almost two years building a plane, which she then piloted herself around Lake Michigan. Currently, she is pursuing a Ph.D. in Physics from Harvard University. Before Harvard, she graduated from MIT at the top of her class with a perfect 5.0 G.P.A. Her website, https://physicsgirl.com, lists a slew of awards and press features, including being named to Forbes "30 under 30" list.
She lists her skills on her website as "spotting elegance within the chaos, design, fabrication, programming, motorcycling, aircraft building and the best Speed Demon player around." While it's admirable that in addition to riding motorcycles, building planes, and playing Speed Demon, she also can program, she might want to consider improving her front-end skills next (if you visit her site you will see what I mean).
While all this is impressive, it isn't the reason the press is calling her the next Einstein. The media is making the comparison because of her work in physics. A profile in Inc. magazine reports that "A paper released in early January, authored by Stephen W. Hawking, Malcolm J. Perry and Andrew Strominger, cites two papers co-authored by Sabrina Pasterski and another she authored on her own." While this is an incredible feat, comparing her to Einstein at this point seems premature, considering Einstein's first four papers, published in his twenties, revolutionized physics.
Pasterski herself seems to agree with this. According to Inc, "she posted an article published about her recently that refers to her as the "next Einstein." She comments alongside the article: "Sorry for the title, my mentors appear to have astronomically high hopes for me." Never the less, Sabrina is someone whose career I will be following closely and I hope she can live up to the insanely high expectations the media is setting for her.
Want to learn to program? Register for my free Self-Taught Coder Masterclass where I cover how I went from a novice to a software engineer at eBay in less than one year.